Cosmetology
Treatment of Cellulite (Cellulite massage)
---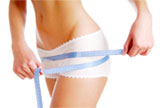 Quaranteed successful treatment of the cellulitis problems for most women. Maintenance of health, correction of body, prophylaxis of the legs disease.
Universal programme for improvement of the figure.
Drastic remedy for active looking after the face and the body at home the treatments for beauty and healthe of face.
SPM vacuum massage
---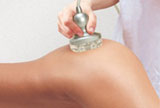 SPM vacu-press with negative pressure reduce the layer of hypodermic fat, reiforce connective tissue, tope up the skin, take out the slag, treat cellulitus. Perfect for skin massage of the face, scars and smoothing of creases.
Body wrapping
---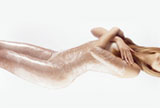 Body wrapping with using of the cinnamon extract cream.
Really after first treatment the size is reducing, skin is smoothing out, slag taking out from organism.
Corpo 02 electro-stimulation
---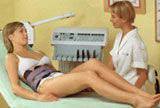 ● Stimulates the degratation of fats and the disappearance of accumulates fat deposits
● produces a tightening effekt on the skin
● stimulates the blood circulation
● favours the re-absorption of edema
● reaffirms and increases the superficial and deep muscular tone
● Soothes osteoarticular and neurological pains
● favours the relaxation of muscular contractures.
Parafango
---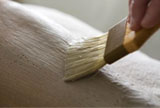 parafiin koos atomiseeritud meremudaga, mis sisaldab rikkalikult oligoelemente. 20 min toimeaeg tagab relaksatsiooni, viib maksimumini seerumi aktiivainete imendumise. Eemaldamine on lihtne ja kerge, jääkide eemaldamiseks ei ole vaja kasutada vett.
Parafango kasutamisel kaasuv soojuse neeldumine, pakub suurepärased eelised soojusjuhtivuse kaudu. Meremuda koosneb peloididest, moodustatud mineraliseeritud veest ja tihkest meremudast geoloogilise protsessi käigus. Muda põhjustab pooride avanemise ja higinäärmete talitsuse kiirenemise, perspiratsiooni. Samaaegselt toimides rahustavalt, omades ka valuvaigistavat toimet.
Aitab eemaldada tiksiine toimides sügavpuhustavalt. Toimib energeetiliselt — stimuleerib vereringet, elustab nahka. Parafiin — omab suurepärast soojust säilitavat ja juhtivat toimet. Minisauna efekt, hoides soojust parandab lokaalselt verevarustust. Aitab elimineerida toksiine, samaaegselt andes sügavniisutava toime, parandades tunduvalt aktiivainete imendumist, tagades pikemaajalise toime.